Estoy totalmente seguro de que has oído hablar de
Mr. Robot
, la serie de Sam Esmail de la que todo el mundo ha hablado este verano, y si no lo has hecho deberías. "-¿Qué serie veo? -Mr. Robot" ha sido uno de los diálogos que más he repetido en los últimos meses, incluso a día de hoy sigo haciéndolo. Como hoy me han vuelto a hacer la pregunta voy a aprovechar para dar 5 razones por las cuales no deberíais dejar de ver la serie con la que USA Network ha dado un puñetazo sobre la mesa del cable.
1. Rami Malek
Si aún no os habéis hecho con este nombre id apuntándolo en la agenda de actores futuribles a interpretarlo casi todo. En su periplo cinematográfico, a lo máximo que ha aspirado Malek es a ser parte de la trilogía Una Noche En El Museo, y, hasta interpretar a Elliot Alderson, en televisión se le conoce por su papel en The Pacific como Merriel "Snafu" Shelton.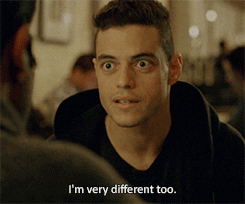 Taciturno, apagado, cansado, marginado, solitario, antisocial son algunas de las características que definen al ingeniero de sistemas/hacker al que da vida Malek. Características que se ven potenciadas por la expresión de su cara, y sobre todo los ojos, aportando un halo de demencia que nos hacen creernos más su personaje. Pero si hay algo que me gusta del actor es esa dicción y su forma de arrastrar las palabras como si le costase pronunciarlas. Rami Malek nació para interpretar a este personaje. Bravo al equipo de casting.
2. ¿Quién dijo Fincher?
La referencia para Sam Esmail es clara: David Fincher. Es difícil no ver El Club de la Lucha en esta reinterpretación de aquel apagón del año 2000, ni tan siquiera que Elliot es el Tyler Durden 2.0, aunque la versión Brad Pitt traía mejores acabados.
No sólo de Fincher beben las referencias de Mr. Robot ahí también están V de Vendetta, Utopia, Black Mirror, Matrix incluyendo a Anonymous y Occupy Wall Street.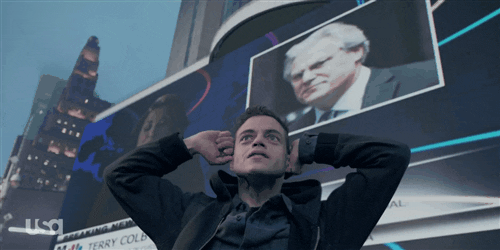 3. La banda sonora
El encargado de la banda sonora es Mac Quayle, un tipo que en el cine se ha prodigado con títulos como Salvajes, Drive, Only God Forgives, Spring Brakers o Contagio de la mano Cliff Martínez, un coloso a la hora de construir el ambiente musical de una ficción, como ya demostrase en la magnífica The Knick. En televisión ha formado parte de The Normal Heart, Caso Abierto, American Horror Story, Scream Queens o la mencionada The Knick.
La música de Mr. Robot pasa de los ritmos electrónicos a las piezas de ópera sin despeinarse ni perder el tono, del hip hop a la música club haciendo parada intermedia entre clásicos como Neil Diamond o The Cure.
Mos Def, M83, María Callas, Nancy Sinatra, Alabama Shakes, Sonic Youth
o unos chavales que están empezando en esto de la música,
Beethoven y Mozart
, también forman parte de la banda sonora. Incluso tiene su propia versión del
Where is my mind
.
4. Los títulos de crédito
No son los de True Detective (lo único salvable de la segunda temporada) ni los de Juego de Tronos, pero sí tienen ese estilo minimalista y sobreimpresionado en la imagen, jugando con el plano y la historia de cada uno de los episodios que me tiene loco. Para muestra un botón.
5. El Cancelaseries
Este bonito nombre lo ha llegado a acuñar
Christian Slater
por
la cantidad de producciones en las que ha participado y se han venido abajo.
Parece que su fama surca por nuevos mares. Habrá que cruzar los dedos para que siga igual de bien.