Volvemos una semana más con
Scream Queens
, esta vez con
un capítulo algo más entretenido que el de la semana pasada
(aunque también hay que entender que debían sentar las bases de la nueva temporada)
pero que aún deja mucho que desear
. Si los números de audiencia no mejoran
puede que ni la buena relación de Ryan Murphy con FOX logre salvar la serie de la cancelación
, y es difícil atraer al público cuando la calidad del producto es tan mediocre. Especialmente en esta época dorada de la televisión que estamos viviendo.
El capítulo abre resolviendo el
cliffhanger
en el que nos habíamos quedado: sí,
Chanel 5 sobrevivió al ataque del Green Meanie
. Según su versión, se desmayó justo antes de caer bajo el machete del monstruo del pantano y, cuando despertó, éste ya no estaba. Por supuesto nadie se lo cree y se convierte inmediatamente en la sospechosa principal del asesinato de la mujer lobo, hasta que más tarde la propia
Cathy Munsch se encuentra también cara a cara con el monstruo
. En lo que es una de las mejores escenas de acción que nos ha dado
Scream Queens
hasta ahora (para ser justos tampoco ha habido muchas),
Munsch se enfrenta al Green Meanie armada sólo con una revista enrollada y consigue derrotarlo
. Justo cuando va a desenmascararlo, pero, aparecen Chanel 3 y el doctor Cascade. Una distracción que sirve para que el asesino escape.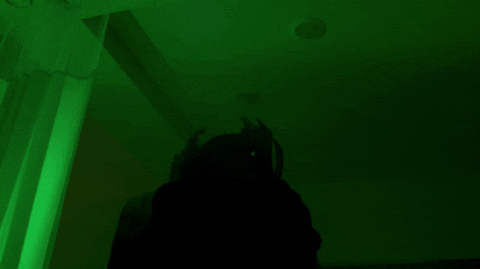 Si algo está claro, porque de momento poca cosa más sabemos, es que las acciones del Green Meanie están relacionadas con la noche de Halloween de 1985 que vimos en el flashback del primer capítulo.
La semana pasada especulábamos que tal vez el asesino era el hijo póstumo del paciente que fue lanzado al pantano
, buscando vengar a su padre treinta años después. Este segundo capítulo de la temporada, pero, complica aún más las cosas. Con nueva información sobre la mesa,
ahora todo parece indicar que esa venganza ya se llevó a cabo
; justo un año después del incidente.

Otro flashback, esta vez a la noche de Halloween de 1986, nos muestra la plantilla del hospital de nuevo de parranda cuando de repente aparece el Green Meanie, machete en mano, y de uno en uno mata a todo el personal. Entre las víctimas de la masacre se encuentran también el doctor que lanzó al paciente al pantano en 1985 y la enfermera que le ayudó. La policía, para variar, nunca llegó a descubrir quién era el responsable y el caso se cerró sin resolver.
Es evidente que en esa ocasión el asesino tras la máscara no pudo ser el hijo póstumo de ese paciente, aún era un bebé por aquel entonces, pero sí podría tratarse de su madre o alguien cercano a la familia. Aún así, '
Warts and All' plantea más preguntas que respuestas ofrece
. Es evidente que debe existir una conexión entre la noche de Halloween de 1985, la masacre de 1986 y lo que está pasando ahora en el hospital de Munsch, pero ¿cuál es? Más de treinta años han pasado desde esos acontecimientos, ¿por qué iba C.U.R.E. a estar otra vez en el punto de mira del Green Meanie si los responsables de lo que ocurrió ya tuvieron su castigo? Tal vez es más sencillo que todo esto y la simple reapertura del hospital ha bastado para despertar al monstruo del pantano, aunque esta explicación sería más bien floja. Esperemos que
Scream Queens
nos tenga preparado algo mejor esta temporada.
En 'Warts and All' vuelven a la acción personajes que no habíamos visto aún esta nueva temporada o que sólo habían aparecido en flashbacks.
Denise Hemphill, la flamante nueva agente del FBI, ha vuelto para investigar el asesinato acontecido en C.U.R.E
. S
u primera aportación es el homenaje a El silencio de los corderos que habíamos estado esperando desde que vimos las promos de Lea Michele con su nuevo vestuario de la temporada
: Denise cree que para encontrar al asesino es necesario meterse en la mente de un asesino, así que propone ir a ver a Hester al manicomio donde está internada desde que fue condenada por los asesinatos del Red Devil. Hace así su primera aparición
#HannibalHester
.
Resulta que Hester no solamente está enterada de todo lo que ha estado ocurriendo en el hospital, sino que además está bastante segura de haber descubierto ya quién es el asesino
. Su ayuda, pero, está sujeta a condiciones. El primer requisito: ser trasladada a C.U.R.E. y tener una habitación con vistas. Por supuesto,
Lea Michele no podía estar apartada de la trama principal por mucho tiempo
, aunque no nos vamos a quejar. Sus escenas siguen siendo de las más entretenidas de la serie.
Otro personaje que volvemos a ver en este segundo episodio es Chad Radwell
, que acude a C.U.R.E. para reconquistar a Chanel y se encuentra con que ahora ella está saliendo con el doctor Brock Holt. Glen Powell es un magnífico actor (puede que el único que realmente merecía una nominación al Globo de Oro el año pasado), pero
lo más interesante del retorno de Chad es que sirve de excusa para arrojar un poco de luz sobre el misterioso personaje de John Stamos
. Habíamos visto que su mano derecha transplantada tenía voluntad propia y tendencias asesinas, pero ahora descubrimos por qué. Al parecer,
el doctor Holt recibió el transplante de un antiguo campeón de squash que acabó en el corredor de la muerte por asesinar a todos sus oponentes justo después de ganarlos en la pista
. Trágico. En cualquier caso, ahora Chad sabe el secreto de Brock y va a usarlo a su favor, aunque aún no sabemos cómo.
Por otro lado, Zayday sigue haciéndose las mismas preguntas que nos hacíamos todos nosotros la semana pasada: ¿Por qué decidió Cathy Munsch de repente comprar C.U.R.E.? ¿Por qué contrató a las Chanel si siempre las había despreciado? Aunque no encuentra todas las respuestas, sus indagaciones la llevan a descubrir que
Munsch padece una enfermedad incurable que la está matando rápidamente
. Aunque Zayday promete mantenerlo en secreto, la jefa de las enfermeras Ingrid Hoffel (Kirstie Alley) tiene micros por todas partes y lo ha oído todo. El personaje de Alley está envuelto por tal secretismo que no hay manera de saber qué hará con esta información, aunque hasta el momento parecía que tenía buena relación con Munsch.
El episodio acaba otra vez con el Green Meanie matando al paciente de la semana, en esta ocasión un chico con la piel cubierta de costras y pústulas (interpretado por Colton Haynes) con el que Chanel 5 había empezado a salir. Más allá de acabar con la única oportunidad de ser feliz que Chanel 5 ha tenido en mucho tiempo, esto nos da una pista más. Hasta el momento este Green Meanie actual sólo ha matado pacientes y ninguno de ellos parece que tenga relación con los hechos de hace treinta años, una tendencia muy diferente a la del asesino de 1986, que iba tras los doctores y las enfermeras del hospital. Habrá que esperar para ver cómo avanza la trama y descubrir si el Green Meanie del flashback es el mismo que está matando ahora en C.U.R.E. o si, por el contrario, es otra persona que ha decidido ponerse la máscara. De momento, os dejamos con la promo del próximo capítulo.


Promo: S02E03. Handidates