Bienvenido al Nueva York de 1900. En breve, le atenderán nuestros cirujanos puestos hasta las cejas de cocaína, pioneros en la investigación médica para solucionar sus problemas. Podemos extirparle un bulto de pus del tamaño de un melón de sapo, operarle con éxito de una placenta previa sin daño para usted ni su bebé, o reconstruirle la nariz con su propio brazo. También somos especialistas en discriminación racial, desfalco administrativo y tratos interesados con terceros. Actualmente poseemos la mejor flota de ambulancias y trabajamos en unas nuevas instalaciones en la zona pija de la ciudad. Mientras tanto podrán seguir encontrándonos en el mismo emplazamiento.
¡Bienvenido al hospital Knickerbocker!
"Hola me llamo Steven Soderbergh y voy a dejar de dirigir películas". No se lo creía ni él, y menos nosotros que somos perros viejos. Tras dejar el cine, puso su sello de calidad en el telefilme de HBO Behind the Candelabra. No era cine, pero tampoco era televisión, completamente. Después de hacer algunos pinitos en el cine con la medicina (debe de ser manía persecutoria) en Contagio y Efectos Secundarios, el bueno de Steve se metió de lleno en el proyecto de The Knick dirigiendo todos los episodios, incluso editando gran parte de ellos. La mano del tipo que llevó a cabo Traffic, Ocean´s Eleven, Erin Brokovich o Sexo, mentiras y cintas de vídeo controla todo en esta serie, y se nota, mucho. The Knick es probablemente la serie con mejor realización cinematográfica que se esté emitiendo en la actualidad.




2. Doctor John W. Thackery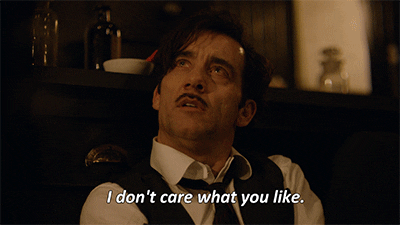 Con Clive Owen tenía un problema hasta hoy,
siempre me ha resultado un actor muy bueno pero un poco cargante
lo que hacía que no disfrutase de muchas de las cosas que hacía. Para mayor inri, en
The Knick
iba a interpretar a
un cirujano adicto a la cocaína al que ya comparaba con uno de mis personajes favoritos, el Dr. House.
Sería fácil asegurar que la serie de
Cinemax
es un
House
de comienzos del siglo XX, pero ni mucho menos.
Owen está inmenso, se come a todo el reparto y a mí me ha callado la boca.
3. Realismo no apto para todos
Si hay algo que realmente consigue la serie de Soderbergh es trasladarnos hasta ese Nueva York que narra. Hasta ese hospital Knickerbocker. Nos adentramos en las salas de cirugía con aprensión, sintiendo un puñetazo en el estómago con algunas de las escenas tan sangrientas no aptas para ver después de comer. Menos mal que no logramos, aún, captar el olor a vísceras, formol, sangre y pus de lo que ahí se ve, que si no...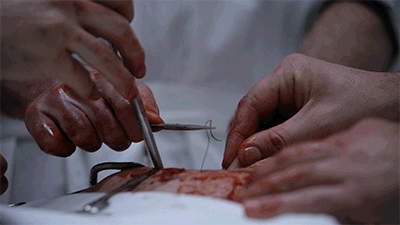 The Knick cuenta con un grupo de asesores especializados en medicina y en materiales quirúrgicos de la época, que los mismos actores han estudiado para realizar un correcto uso. Y eso, además de molar, le da mayor empaque.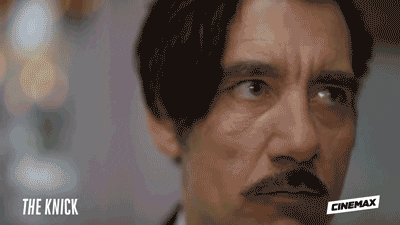 4. Fiel reflejo de la sociedad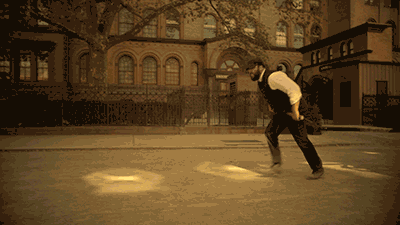 No estamos ante una simple serie de médicos e investigación,
The Knick presenta la sociedad de una época tan cambiante como son los comienzos del pasado siglo XX.
Una sociedad en la que un cirujano negro, considerado una eminencia en Europa, es degradado en una ciudad tan clasista y racista como la neoyorquina.
Una sociedad en la que realizar un aborto está visto como un sacrilegio, más aún si es una monja la que lo realiza.
Una sociedad que comienza a sufrir los problemas de la inmigración ilegal con las consiguientes enfermedades.
Una sociedad en constante evolución que se ha de adaptar a los cambios, donde tener una ambulancia con motor te asegura tener clientela siempre.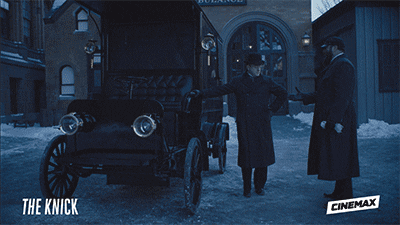 5. La BSO de Cliff Martínez
¿Qué sería de una gran realización sin una gran banda sonora? La de
The Knick
viene firmada por un auténtico monstruo,
Cliff Martínez
. El ex batería de los
Red Hot Chili Peppers
es un fijo en los trabajos de Soderbergh y
Nicolas Winding Renf
, todos ellos con excepcionales composiciones musicales.
El estilo musical, electrónico y anacrónico para una serie de época, dota a la banda sonora de unas características particulares que se adhieren al metraje como un lo haría una gasa en una herida supurante.
Esto es
The Knick
querido lector, acostúmbrate.
Si hay un tema que se eleva por encima de todos en la BSO es este
Song of a Placenta Previa.
Brutal e imposible de sacar de la cabeza.